Industry 4.0 is basically the fourth industrial revolution. After steam, electricity and information technology, Industry 4.0 involves the application of the Internet of Things (IoT) and other enabling technologies to all stages of industrial production and related processes (logistics, machine maintenance, occupational safety, final product quality, etc.). The analysis of Big Data produced by the interaction between machines, and between machines and the Internet, makes it possible to optimise production, reduce waste and work-related risks, and prevent malfunctions and failures.
What is IoT?
IOT stands for Internet of things but also for a smarter world, i.e. intelligent, hyper-connected and ultra-communicative.
Technologies associated with automatic identification help organisations to develop new, more advanced service logics.
And so we talk about smart manufacturing, smart logistics, smart retail, smart health, smart agrifood and smart finance.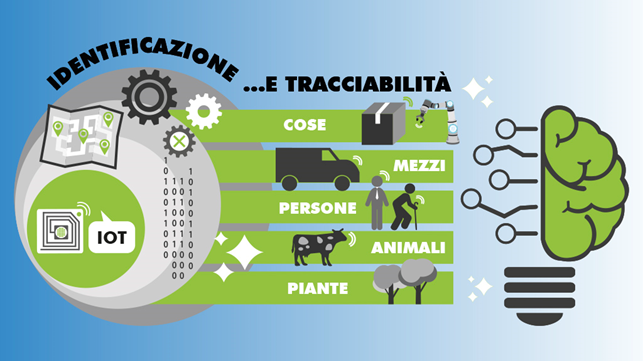 The term IoT is used to describe all the technologies that make it possible to transform any object (e.g. a thermostat, an automatic warehouse, a car wash or a car, etc.) into an Internet-connected device that can be used by any terminal connected to the web, thus enabling it to be controlled remotely.
Within this category, there are various technologies and associated communication protocols that allow IoT devices to communicate with each other and then connect to the Internet…
Some examples of IoT applications developed by SHD:
Control and automation of fruit-picking equipment:
Through interaction with an internet portal it will be possible to remotely:

Control logistics
Manage some actuations of the vehicle remotely
Control and set the vehicle's functional parameters "in real time".
etc..
Machine automation control for automatic product distribution:
Through interaction with an internet portal it will be possible:

Control receipts and disbursements produced
Real-time management of vending machine diagnostics
Control and set "real time" functional parameters
etc..
Management of e-bike sharing:

Vehicle geolocation management
Real-time" display of the vehicle's functional data and possibility of modifying them
Possibility of remote vehicle locking and satellite tracking for recovery
etc..
The communication between IOT devices and remote end-users is based on a BIDIRECTIONAL internet communication, which allows the user to interact in "real time" with the IOT object, taking remote control of it through any terminal connected to the internet.

SHD SOLUTIONS – INDUSTRY 4.0
SHD, thanks to its experience in the IoT sector (both electronic and IT), offers its own electronic/IT platforms to the market, making available (free of charge) its BACKGROUND in the IOT sector.
SHD proposes an IOT electronic platform ("mature", "proven" and stable in the market in different applications) capable of interacting with "the outside world" through most of the communication technologies currently on the market.
SHD thus offers its experience, GIFTING everyone its "LAUNCH TRAMP" (the experience gained on the SHD IOT platform).
Anyone will be able to DEVELOP their own electronic/computer projects related to Industry 4.0, starting with a Certified Electronic Platform, with a possible IP67 plastic container with the following characteristics:
IOT WEB PLATFORM customisable to requirements
IOS and ANDROID APPs that can be customised according to requirements
2.G BIDIRECTIONAL INTERNET CONNECTION (POSSIBLE 3.G, 4.G)
Through MODEM and integrated ANTENNA
BLE CONNECTIVITY Broadcast + Observer in BLUETOOTH LOW ENERGY
ex. electronics can connect simultaneously with an APP
(IOS and ANDROID) and read the status of multiple BLE sensors.
ANALOGUE AND DIGITAL INPUTS AND OUTPUTS
Rechargeable LITHIUM BATTERY
CHARGE CIRCUIT Lithium
RECEIVER and INTEGRATED SATELLITE ANTENNA (latest generation GPS)
3-AXIS MOTION DETECTION VIA GYROSCOPE/ACCELERATOR
IP67 WATERPROOF ENCLOSURE OPTION
Platform expandable to a wide range of market needs.
Elettronics 4.0
Contact us